Rotate Pages in PDF
Upload and start working with your PDF documents.
No downloads required
How to Rotate PDF Online?
Upload & Edit Your PDF Document
Save, Download, Print, and Share
Sign & Make It Legally Binding
Rotate Pages in PDF Files Permanently
Today more and more people prefer storing their documents on a computer or a smartphone. It is much easier to search for them, view and share with recipients. You can instantly send a needed file even when on the go. However, while scanning them you can make some errors. For instance some pages in a PDF file can be scanned upside down or they can be turned to a different degree. When you need to correct such mistakes in a matter of minutes, you can easily use an online PDF rotator. In this article you will find useful information and tips for choosing the best tool as well as an instruction for applying it.
Tips for Choosing an Appropriate Rotator
On today's market there is a variety of powerful editors that allows you not only to delete, add and combine pages in your files, but also to turn them. However, it can be rather difficult to opt for an appropriate solution, especially when you are a first-time user. To solve such an issue we offer you to take advantage of digital streamlined tools as they offer the customers a number of benefits:
no need to download and intsall additional software;

most of them can be used for free;

safety and security of your PDFs;

access from any device;

compatibility with all major OS.
However, you have to take into account that such services are available only for internet connected devices. So, make sure you have good and stable access to the internet before manipulating your documents to accomplish the process of rotating successfully.
How to Use Online PDF Rotating Tool?
With online PDF rotators the process of transforming your files is a breeze. They require only a few simple steps to accomplish the manipulating. Moreover, all the customers are provided with a step-by-step instruction. Following the guide below you can effortlessly rotate sheets:
open a specific online tool;

upload a file you want to change;

select the necessary page by clicking on it;

then select the arrow icon as many times as you need until the page is in the right position;

save a processed form to your computer or to a cloud storage.
What's included?
Review and edit PDFs online
Convert files into PDFs and backwards
Be fast when staying confidential
No registration. No downloads. Start now!
Video instructions and help with filling out and completing Rotate PDF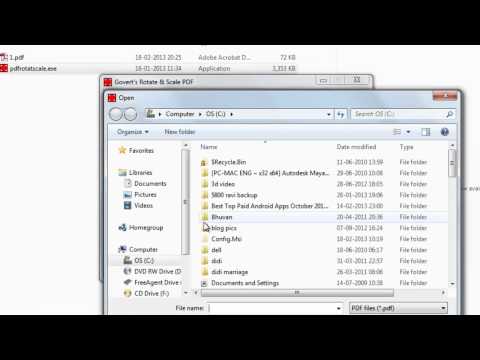 Instructions and Help about Rotate PDF
Welcome back to our channel again now today we learn how to rotate Apulia file and save it permanently in the same way the ticket way so just have a trick you put it back you can see it is already updated region rotate it 90 degree anti-clockwise direction explode it is turn this off there select this little file it's clock projection so we have to submit it this multi degree just key can occur and now I just see the desired output file located file in your desired location and yes the time done download link of the software has been given below this video now just be check the is there you can see and they are click here and say this is our desired part of video so thanks for watching this tutorial
What Our Customers Say

Deborah W.
Great resource! I got my document completed in a snap, plus they didn't ask to sign up. It was really easy and clear. Thanks, guys!

James S.
This converter saved my nerves and time. I turned a package of PDFs into Word and got all my work swiftly done. The best part is the fact that there was no frustrating registration.
William G.
Wonderful thing. I am able to do various things with my docs and print them out whenever I need even from my iphone. Few of faucets, and it's accomplished without having boring authorization. Very good position!

Denis B.
Awesome thing. I'm able to do different stuff with my docs and print them out when I would like even from my iphone. Few taps, and it is ready without the need of dull authorization. Good work!
Supporting Forms
Experience the most beneficial on the web platform for document management and work on your contracts and forms making use of a set of comprehensive functions. Upload a doc out of your gadget or cloud storage utilizing any operating system on your desktop computer, smartphone or tablet. Make needed modifications to your file with the assistance of converter and editor. Convert the file extension, delete and insert pages, edit text or include fillable fields without efforts.
FAQ
Chrome: When did Google Chrome pdf viewer gain the ability to rotate pdf documents?
You don't need to wait for such updates. Just rotate pages in PDF online for free on our website.
PDF reader which saves a rotated pdf back to the original location. Suggestions?
You can also use it www.altorotatepdf.com for save a rotated pdf.Drag and drop the file into the box above. When you finish with one doc, delete it to start over. When you've uploaded your PDF, preview it, choose the pages you need to change. You can rotate them all just in one click without installing any software.
How do you rotate a PDF file?
Rotating a PDF is extremely easy: you can do it online for free!All you have to do is drag-and-drop your PDF file in our our Smallpdf Rotate PDF tool. You will have the option to rotate single pages by hovering over them or turn all the pages in the document at once. Last, press "Apply changes" and download it.It's that simple.We hope this helps!-The Smallpdf team-
How do you rotate a PDF file in Linux?
You can rotate a PDF file in Linux using altorotatepdf.com. Completely Free
Which is the keyboard shortcut to rotate a PDF?
To rotate the view in the clockwise direction, use the key combination Ctrl+Shift+PlusTo rotate the view in the anticlockwise direction, use the key combination Ctrl+Shift+MinusNote: The Plus and Minus keys should be used from numeric pad not from the keys available adjacent to backspace.For further shortcuts, look here:Keyboard shortcutsHope this helps,Sujeevan.
How do I rotate bulk scanned PDF copies?
I don't know that this is possible in bulk. I do know my normally reliable Fujitsu scanner will occasionally throw a sideways picture into the mix, and I can easily fix that in Adobe Acrobat. But that has to be on a page-by-page basis. I don't believe I could process more than one file. There's an option in my scanner software to 'automatically orient pages' (which works with any text in the page) so (in theory) I should never see a wrongly presented page. But they do happen. When this does occur I wind up rotating pages left or right 90 degrees, and occasionally 180 - so individual management is required to get the whole document correctly upright. Sorry not to be more help…:(